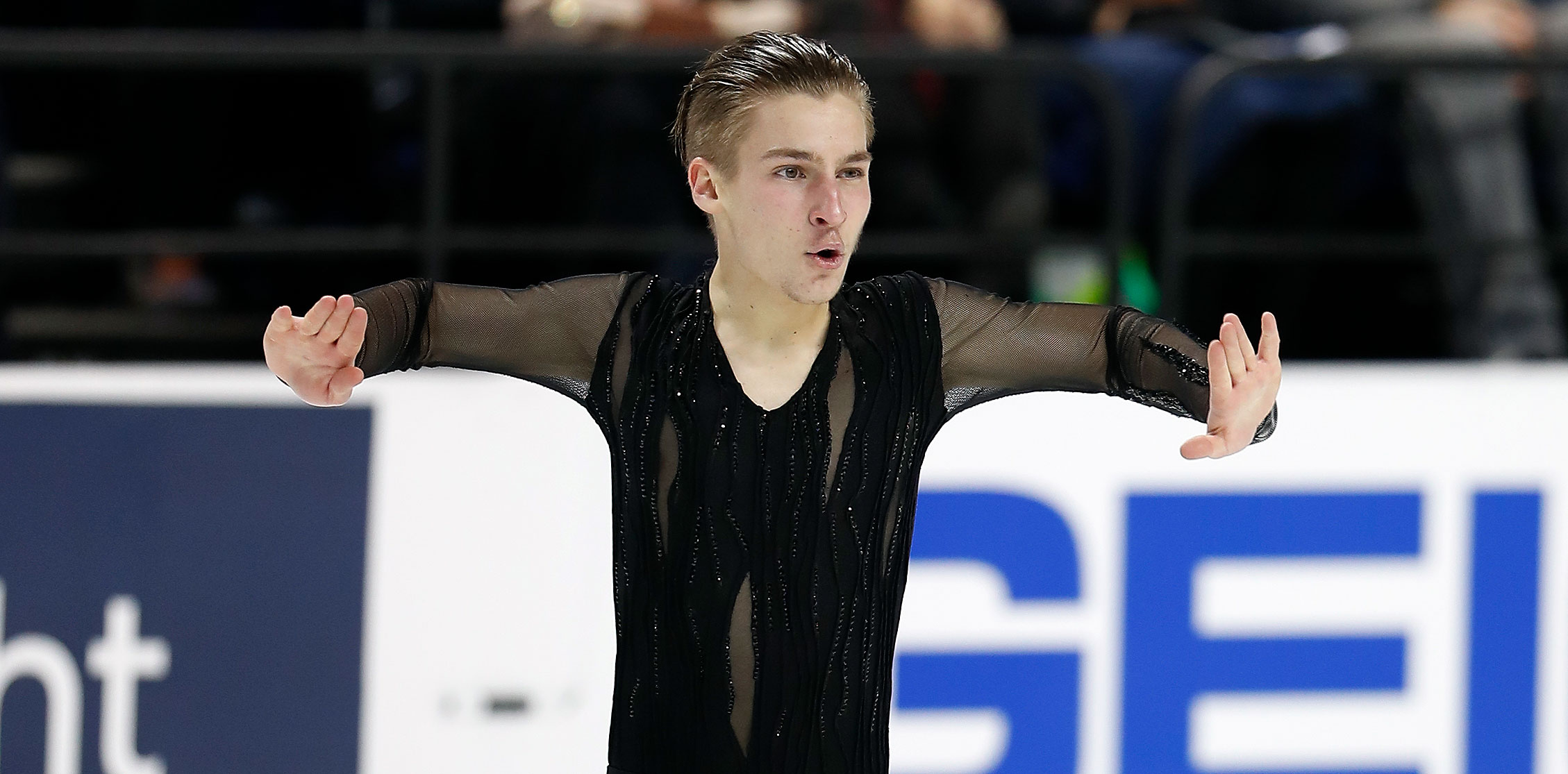 NEWS & ARTICLES
Andrew Torgashev Reinvests in Himself, Training During 2020-21 Season (U.S. Figure Skating Fan Zone, November 19, 2020)
Andrew Torgashev Makes Wishes Come True with Charity Auction (U.S Figure Skating Fan Zone, December 19, 2019)
Torgashev gears up for competition season with stop in Lake Placid (Lake Placid News, August 17, 2018)
Q&A with Andrew Torgashev [before the 2017 World Junior Championships] (FigureSkatersOnline.com, March 6, 2017)
#JacksonFamily Interviews Ft. Andrew Torgashev (JacksonUltima.com blog, March 2017)
Coral Springs' Torgashev, 15, finishes 11th at U.S. Figure Skating Championships (Sun Sentinel, January 22, 2017)
Coral Springs' Torgashev seventh after short program (Sun Sentinel, January 21, 2017)
Andrew won the bronze medal in his senior international debut at Tallinn Trophy, an ISU Challenger Series competition in Tallinn, Estonia, November 20-24, 2016.
Andrew won his first Junior Grand Prix medal, silver, at the Cup of Mordovia in Saransk, Russia, on September 16, 2016. He set new ISU personal best scores in his free skate (139.44) and total (204.91). He set a new ISU personal best score in the short program (73.48) of his second JGP event, October 5-8, in Dresden, Germany, and placed 4th overall. As a result, he is the second alternate for the Junior Grand Prix Final.
Torgashev returns in style (Lake Placid News, August 10, 2016)
Smarter, stronger Torgashev aims to regain top form; Former U.S. junior champion ups technical ante, impresses in Aston, PA (IceNetwork, July 19, 2016)
Torgashev announces program information for 2016-17 season (June 20, 2016)
Torgashev wrote a blog announcing his program information for 2016-17. He also talks about his new clothing line.
PHOTO: Andrew (on far right) with cast of the "Ekaterina Gordeeva – From the Heart" show in Lake Placid, New York (December 30, 2015)
Torgashev withdraws from Eastern Sectional Championships (November 11, 2015)
Torgashev wrote a letter explaining why he had to withdraw from competition

Torgashev sidelined by ankle injury (IceNetwork, June 29, 2015)
Torgashev … is off the ice with an ankle injury, which he sustained during training in early June. A statement from his coaches said Torgashev is currently undergoing treatment and hopes to be back on the ice soon.

"As of right now, he is on a recovery plan. His recovery going very well," his mother and coach, Ilona Melnichenko, said. "He is very determined and doing everything to get back as soon as he can."
Coral Springs' skater Torgashev sets record at nationals (Sun Sentinel, January 23, 2015)
Torgashev sets new U.S. standard for junior men (IceNetwork, January 23, 2015)
Torgashev takes commanding lead in junior men's short (IceNetwork, January 21, 2015)
Local skater earns second national title (Sun Sentinel, February 13, 2013)
Gliding through quality ice time (Sun Sentinel excerpt, June 24, 2012)
Panthers skaters produce top national efforts (Sun Sentinel excerpt, January 23, 2012)
Torgashev turns juvenile boys bronze to gold (IceNetwork excerpt, December 14, 2011)
Coral Springs' Torgashev, 9, skates to bronze in first trip to Junior National (Sun Sentinel, December 18, 2010)
Coral Springs' Torgashev gets bronze medal in first trip to Figure Skating Junior Nationals (Sun Sentinel, December 18, 2010)
Panthers Figure Skating Club's Torgashev wins gold medal at Cape Cod (Sun Sentinel excerpt, August 25, 2010)
TV INTERVIEWS
Coral Springs teen ice skater sets sight on Olympics (Miami Local10.com, May 13, 2015)
Focus on South Florida: Andrew Torgashev (CBS Miami, May 3, 2015)
South Florida figure skater hopes to make Olympics (Miami Local10.com, February 22, 2013)